&nbsp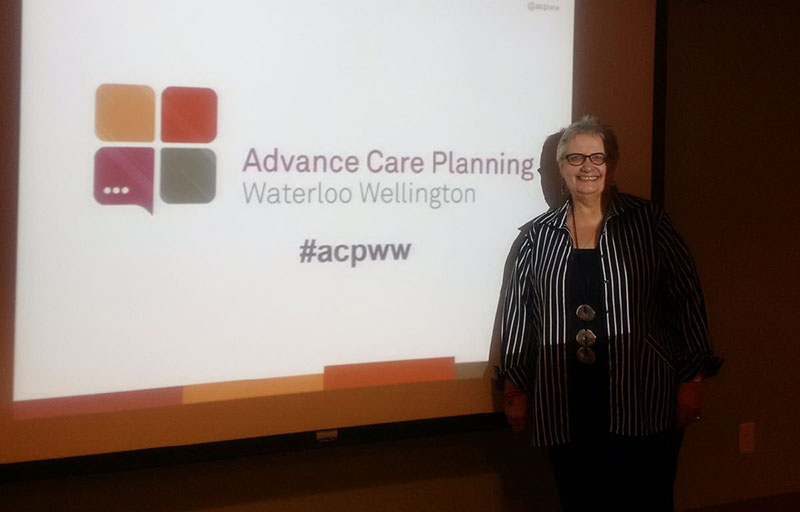 Submitted by Sheli O'Connor, Advance Care Planning Education Program Lead
My father was out walking his dog one day and he got tangled in the leash, fell backwards and fractured his skull. My dad ended up in a coma and over the course of his treatment in hospital there were many healthcare decisions to be made. We had never talked to my dad about the "what ifs" so when the doctor asked us who would make the decisions, my brother and I had no idea and we were terrified. Both my brother and I were in our late 30's with very young children. We had not been close growing up but over the next 3 months we worked together to make the necessary decisions, trying always to base those decisions on what we thought Dad would have said was important to him. Thinking on what dad would have wanted, we tried to keep the fact that he had just moved to spend more time with his grandchildren as our focus for those decisions. After my dad got better we sat down to talk about decision making and he asked us to be the joint attorneys named under the Power of Attorney for personal care. Both my brother and I said, "no way". It was an emotional rollercoaster and way too hard for us as his kids to make those difficult decisions. After more discussion my dad spoke with his sister and she agreed to be named as the decision maker under the Power of Attorney for personal care.

A daughter's story as relayed by Judith Wahl (modified to protect privacy of those involved).
Judith Wahl , lawyer and Executive Director of the Advocacy Centre for the Elderly (ACE) really "hit the nail on the head",  using stories like this one to help our audiences understand  advance care planning and health care consent in Ontario.    The story illustrates how difficult health care decision making can be when you are unable to speak for yourself.  The story supports the importance of having advance care planning conversations with the person(s) who would be your substitute decision maker if you are not capable of speaking for yourself and the importance of understanding how health care decisions are made under Ontario law.   
In my opinion, having Judith Wahl as our guest speaker for our first education initiative was the perfect starting point for the  Advance Care Planning (ACP) Education Program Team launched earlier this spring.  Our goal was to reach a broad audience with the correct Ontario information and to inspire them to have the conversations! In four days, we reached over 500 individuals across Waterloo and Wellington in ten different locations.  Responses from those attending were very positive, with many comments like the one from this participant:
I knew absolutely nothing about this before tonight.  Now I can have at least the beginning conversations with my older parents. Thank you.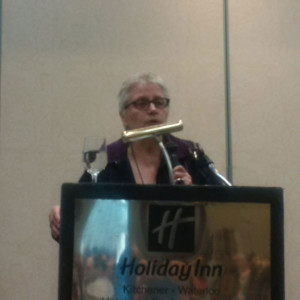 The ACPEP team and I supported Judith at every session and we were inspired by the content of her message and the eagerness of all audiences to educate themselves on this topic.  Judith is a passionate champion of the legislation that guides how health care and personal care decisions are made in this province. She is especially proud of how the law works to enable your voice (your values, beliefs & wishes) to be heard even when you are not mentally capable of speaking for yourself.   She was fond of saying, "the law is easy, it's the human part that's difficult".   I think she was acknowledging that understanding Ontario's legislation around health care consent ( the easy part?) and having  advance care planning conversations with your substitute and your loved ones (the human part) is complicated but worth the challenge!  Sorting through the easy and the difficult, Judith's presentations raised a number of questions for the audience. I have tried to capture the key messages below:
Why is Advance Care Planning Important?
Advance care planning is directly linked to how healthcare decisions are made in Ontario. In a time of health care crisis, decisions about your care and treatment must be given by you, OR if you are mentally incapable, by the person identified as your substitute decision maker. In Judith's story, Dad's children focused on how important it was for their father to spend time with his grandchildren and this information guided their decision making when he was in a coma and not able to speak for himself. The stress of suddenly trying to make decisions in a health care crisis resulted in that family sitting down after the crisis to have more conversations.
Advance Care Planning Conversations Focus On:
1. Identifying the person who would speak for you if you are unable to speak for yourself (i.e. your substitute decision maker) and,
2. Having a conversation with that person to share what is important to you, helping that person understand your wishes and values so that if they need to make decisions for you, they will be guided by those conversations.
Did you know that every person in Ontario has an automatic Substitute Decision Maker (SDM)?
Watching and listening to the questions posed by the audience, it was very clear that many were unaware that under Ontario law, every person in Ontario has an automatic decision maker if he/she is unable to speak for him/herself. The fact is that in Ontario, health care providers must obtain informed consent for health care treatment from a person, not a piece of paper. The attorney named in a Power of Attorney for Personal Care is only one type of substitute decision maker. The breakdown of who that substitute would be is provided in a list or "hierarchy" of decision makers (Health Care Consent Act). Remember that when a health or personal care decision needs to be made, your health care provider will turn to this list if you are not capable to make the decision for yourself. This list goes from top to bottom and the highest ranking person on this list who is available, capable and willing to make these decisions will become your substitute decision-maker for health care and some personal care decisions:
1. Guardian of the Person with authority for Health Decisions ( by Superior Court order, very rare)
2. Attorney for personal care with authority for Health Decisions ( POA for personal care)
3. Representative appointed by the Consent and Capacity Board ( tribunal appoints decision maker when an application has been made to the board – less common)
4. Spouse or partner
5. Child or Parent or CAS (person with right of custody)
6. Parent with right of access
7. Brother or sister
8. Any other relative
9. Office of the Public Guardian and Trustee
Judith's TIP sheet on the hierarchy is available on our website – quick link: http://goo.gl/lMy9Up
For many of our session participants, the presence of a list of automatic decision makers under Ontario law was a surprise. After seeing this list, Judith's suggestion that the law was easy raised a few eyebrows. Can you see from this list who would be your substitute decision maker if a health care decision needed to be made, and you were not mentally capable of speaking for yourself? In the story that Judith shared, Dad's two children (#5 on the list) were his automatic substitute decision makers. You can imagine their surprise and stress in finding this out during a health care crisis. After Dad's recovery, there was a family "conversation" and the adult children were not willing to continue in the role of substitute decision maker. Dad chose to prepare a Power of Attorney for Personal Care (#2 on the list), a legal document that named his sister as his substitute decision maker for personal care.
This story does demonstrate the importance of talking about the TWO key parts of Advance Care Planning:
1. Identifying who would be your substitute decision maker if you were not mentally capable and
2. Having the conversations with that person and your loved ones about what is important to you i.e. your wishes, values, and beliefs.
I am sure many of you are thinking, "Why is this so complicated?!" The Advance Care Planning Education Program hopes to "un-complicate" the process for you so that we are all comfortable having these conversations. The recent education sessions were our first step in bringing you information about ACP and the Ontario legislation that guides health care decision making. We are not lawyers so we are pleased that Judith Wahl has agreed to work with us to provide you with the resources that you need. A TIP sheet on the hierarchy created by Judith is one such tool and it is available on our website. You can view this tip sheet and other helpful resources here: www.acpww.ca/resources.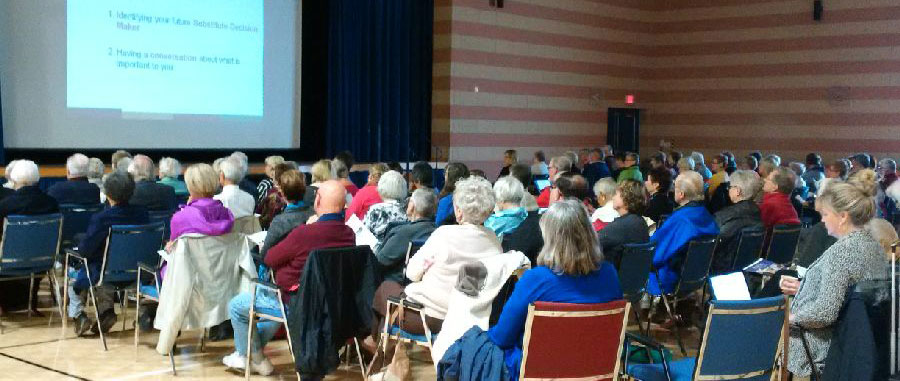 The ACPEP team is here to encourage and support you in educating yourself on Advance Care Planning and Health Care consent.  In case you missed these education sessions, all of the information and resources from the sessions can be found on our website www.acpww.ca .   Over the next three years we will be working with you to create more education opportunities and resources for Waterloo and Wellington.  To stay in touch visit our website and sign up to receive updates and information as the project moves forward.
Just like the participant who went home to begin the conversations with his older parents, we encourage you to get informed
AND
Start the conversation with your family and friends!

Contact us directly at 519-743-4114.
[email protected]     Program Lead ext. 111
[email protected]  Community Engagement Lead ext. 123
[email protected] Healthcare Engagement Lead ext. 128
Stay connected www.acpww.ca
Twitter @acpww