The 5th annual Kindred Credit Union Hike for Hospice took place on September 24, 2017 in support of Hospice of Waterloo Region, Community Outreach Hospice Services. The unseasonably hot weather did not melt the spirit of the 205 Hikers who came together and hiked a warm 5km route.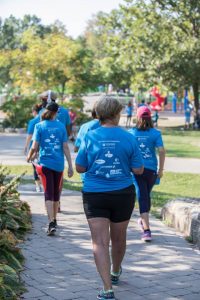 This was a significant year of growth for this annual hike. We welcomed Kindred Credit Union as the presenting partner for the next three years.  Also joining us in partnership was Henry Walser Funeral Home, who supported our new "Always in our Hearts" memorial.  These partnerships assisted us in expanding our reach into the community that has close connections to hospice and to those who have received the services of Hospice of Waterloo Region. These efforts resulted in a significant increase in hiker participation, and we successfully raised over $47,000.
A huge Heartfelt THANKS goes out to all the hikers, donors, sponsors and volunteers for making the 2017 Kindred Credit Union Hike the best hike to date!
All funds raised through this signature event help ensure that support is always available at no charge for individuals and families, when it is needed most in Waterloo Region.
Photo Credit: snapd Kitchener/Waterloo