&nbsp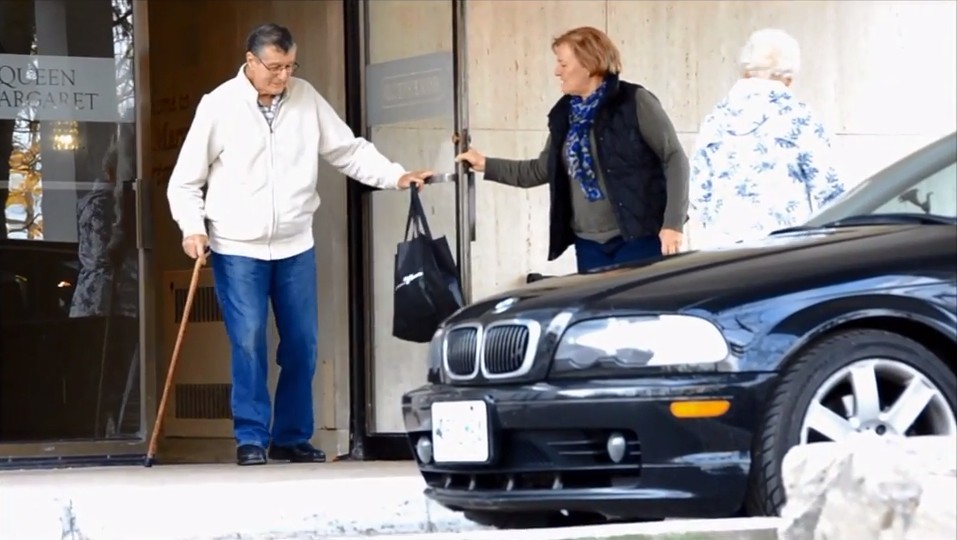 When you're diagnosed with a life-threatening illness, or caring for someone who is, being driven to an appointment by a hospice volunteer is more than being transported from point A to point B. It's an opportunity to receive "front-seat" support. Our Transportation program is more than a taxi ride. When you call a taxi, you typically sit in the back seat, and look out the window or engage in small-talk with the driver. When clients receive a ride fro a Hospice of Waterloo Region (HWR) Transportation Volunteer, they sit up front with the driver and the volunteer engages the client in conversation. Having some to talk to, even during a 15-minute car ride, can be the very support that someone needs to help them make it through the day.
Hospice's Transportation Volunteers receive a full 33-hours of hospice training so they are fully equipped to handle these difficult and often emotionally-charged conversations. On average, HWR provides approximately 40 drives a month to clients and their family members who have no other means of getting to their medical/hospice-related appointments. It's during these rides, from pick-up to drop-off, where some extraordinary support can happen. Here are two of those stories…
A Transportation Volunteer not only drove a client to their out-of-town medical appointment, but also, on the request of the client, sat in on the client's doctor appointment and took notes. The client confessed that she was so overwhelmed during her appointment, she didn't remember all that the doctor was saying. The volunteer took notes during the appointment and gave them to the client to read when she returned home.
A client received rides to her medical appointments from the same Transportation Volunteer over the course of several months. They built such a connection during those rides that when the clients's health declined and she was house-bound, she requested that her volunteer driver support her on a one-to-one basis in her home. Because the volunteer had taken our full 33-hour hospice training program, she was abel to continue to support her through our in-home volunteer visiting program.
These are but two examples of how Hospice helps, and makes a difference in the lives of our clients. It was only two years ago when HWR was providing 10 drives a month. Step by step, the referrals to this program have grown as our reputation amongst our community partners for providing last-minute rides, and exceptional and caring support to the clients we drive, has grown as well.
View Our Hospice Volunteer Transportation Video