&nbsp

Article via The Record – July 31, 2015
Link to original article: Volunteer gardeners tend Kitchener hospice's 'oasis'
The colourful gardens at Hospice of Waterloo Region create an oasis for people coping with serious illness.
They're also a labour of love by a dedicated crew of volunteers, who created them out of nothing when the charitable organization moved to the Lawrence Avenue building five years ago and now carefully tend the beds to ensure they're always fresh and bright.
The gardening team of 10 is a valuable addition to the Kitchener centre's volunteers, said executive director Judy Nairn.
"It means everything," Nairn said. "They help to create a really beautiful, calm, peaceful environment for our clients."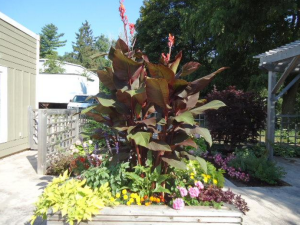 Hospice of Waterloo Region offers programs and services to people affected by life-threatening illness, offered free of charge to clients and their families.
"Just having pretty things around means a lot to people when they're going through a difficult time," Nairn said.
Every Monday, Wednesday and Friday a team of three comes out for about an hour and a half to water and weed, plant in the summer and pull out in the fall.
Despite the sweltering heat this week and much-needed rain, the gardens surrounding the building were lush and a riot of pink, orange, yellow and purple blooms.
A massive bed stretches in front of the building, with flowering plants, hostas, decorative grasses and shrubs, and more gardens around a shaded patio in the back.
Many of the materials were donated by local businesses and individuals to turn the weedy industrial property into a place more like home. The back hill was nothing but weeds when the organization moved in, Nairn said, and "now it's a really nice feature."
"It's nice for the staff, too," said volunteer Tom Litwiller, taking a break on a benches on the shaded patio.
Nearby in the back yard is a large box that participants in one program help fill with flowering plants each spring.
"Some of them have never put their hands in dirt before and it's just a refreshing, invigorating thing for them," said volunteer Lynn Weimer.
Jean Hoffmann and her husband benefited from the programs offered at Hospice of Waterloo Region before he died of prostate cancer, and now, after moving into a condo where there's less for her to do. she has time to help with the gardening.
It's not just clients who benefit from the peace of the gardens, but also loved ones who have a lot to cope with.
"It's nice for the family members to have a good place to come out to," Weimer said.
The gardening crew is a close bunch, chatting while they work and sharing their knowledge. Volunteer Edith Coyle enjoys gardening, and said she is learning a lot along the way that she takes home to her own garden.
"This garden is an inspiration and these people are an inspiration," Coyle said.
Get Involved
For more information on how you can support or volunteer with Hospice of Waterloo, please visit our Get Involved page.