Looking back on the past few years, we are now seeing the result of extensive planning, hard work and the incredible support of our community. With the creation of a home that will allow us to expand our services and programs and offer 10 hospice beds in the Cook Family Residence, we will soon be able to offer a continuum of care to those living with an end-of-life illness and their caregivers.
While there were some initial concerns about the impact of the pandemic, construction of The Gies Family Centre has moved forward over the past few months without interruption. With an expected opening in Spring 2021, our vision for this one-of-a-kind facility in the region is coming to fruition.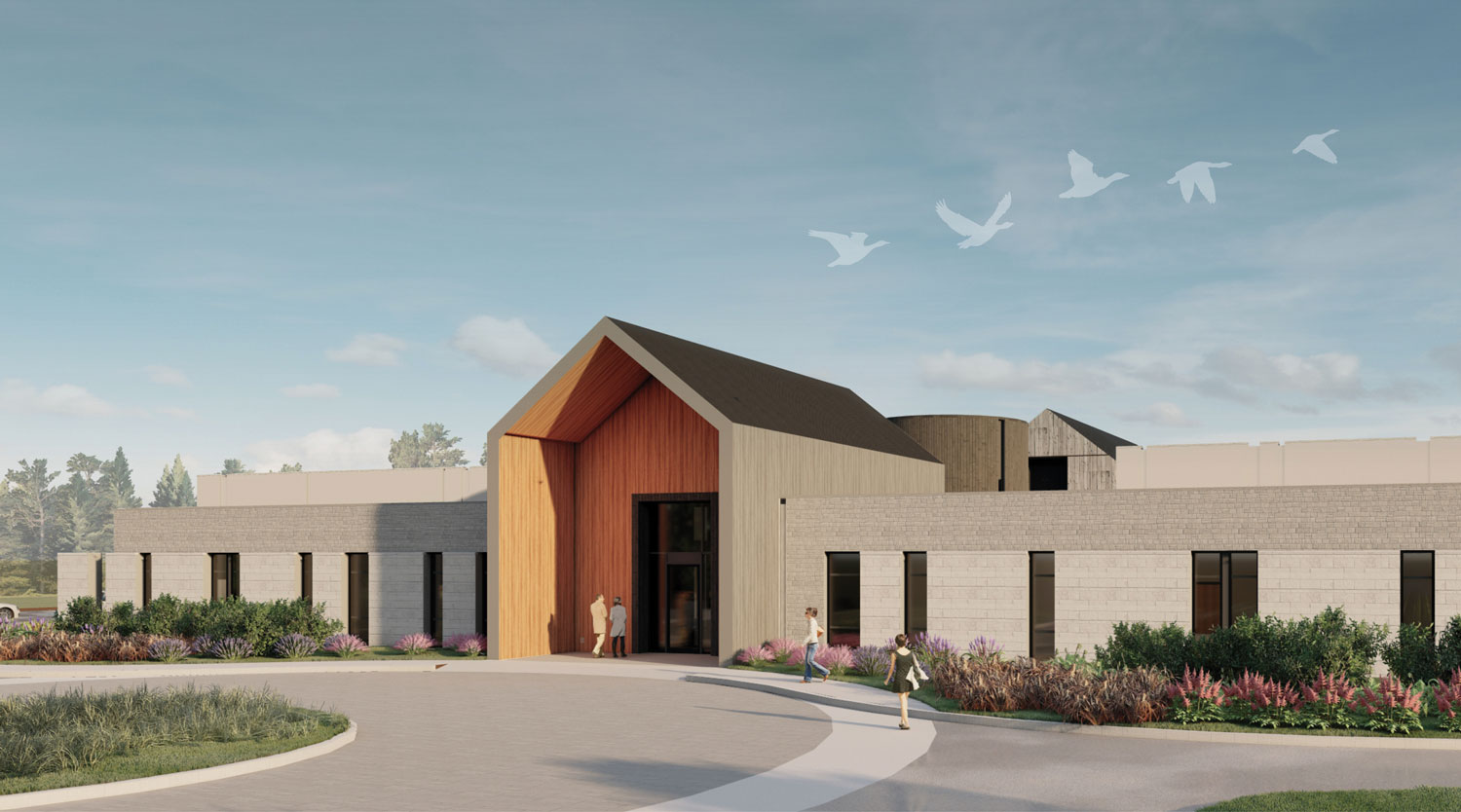 Donate Online
Make a secure donation online today by following the donation button below. Your gift to our campaign is appreciated.
If you are interested in making a pledge to the campaign instead of a one-time gift, please contact Tracy Helm at:
Hospice of Waterloo Region is grateful for the public sector support of:
Ontario Ministry of Health and Long Term Care, Government of Ontario
Ontario Trillium Foundation
Region of Waterloo
City of Waterloo
Inspired by the history of the site itself, the new centre is designed to impart a sense of humanity, humility, and permanence, to create a feeling of harmony, and to unify land and building, people and structure.
The overarching narrative generates a sense of connectedness and belonging through the use of familiar materials and openings to bring in the sounds and scents of the outdoors and through the careful direction of natural light to heighten the awareness of the passage of time.
Merv Redman, Campaign Chair
A lifelong resident of Waterloo Region, Merv Redman has held the position of Co-Owner of Amber Steel, a metal manufacturer here in Kitchener, since 1979.
Over the years, Merv has been an active member of the KW community. From 2010-12, he served as the Board Chair of Carizon (formerly Mosaic Counselling and Family Services), where he also served on their fundraising cabinet, as well as a Director for 15 years. In 2013 he was honoured as a Volunteer for Outstanding Leadership by the Volunteer Action Centre. He served as a Director at the Galt Golf and Country Club and is a Past President. He is currently a member of the Westmount Golf & Country Club.
His wife, Diane, passed away on Aug. 25, 2016 at Hospice Wellington in Guelph. He has two daughters, Pauline and Penny, six grandchildren, and has two great grandchildren.
Merv Redman, Campaign Chair
Linda Brooks
Alex Brown
Maureen Carli
Peter Chandler
Brenda Hallman
Tracy Helm
Wilf Jenkins
Linda Knight
Mary Kuntz
Gary Leduc
Dianne Moser
Judy Nairn
Bob Publicover
Joanne Renaud
Gayle Sadler
Karin Voisin