Long-Term Care and Substitute Decision Making
September 25, 2020 @ 10:00 am

-

11:30 am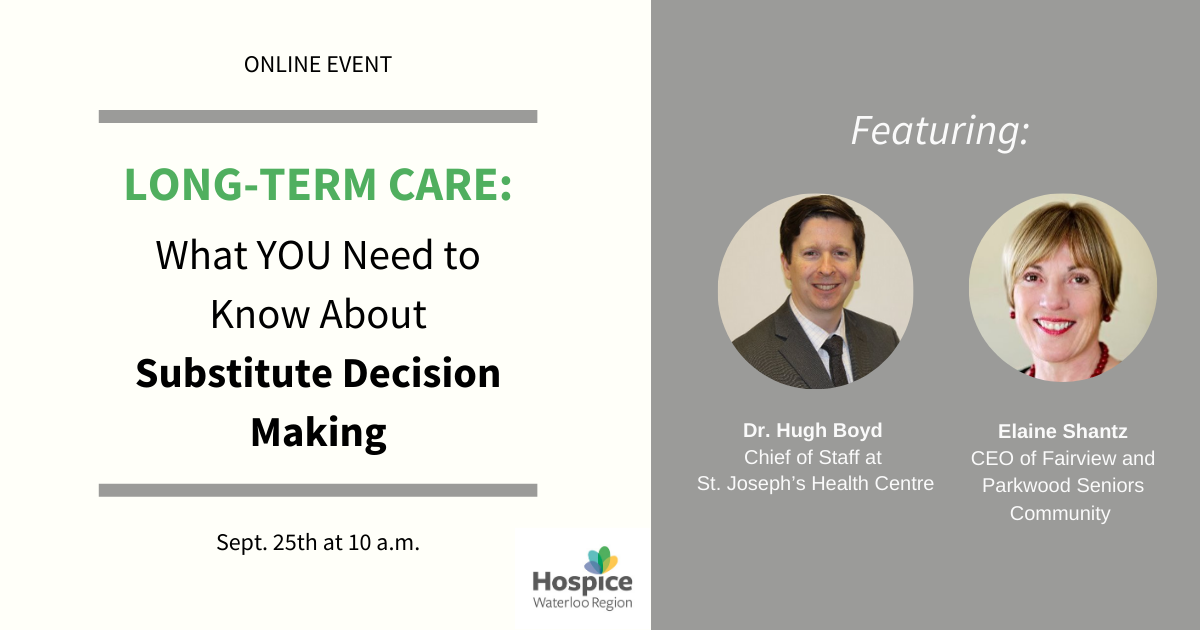 What is a Substitute Decision Maker? What is their role during a transition to long-term care? And how is it different from going to a retirement home? These are just a few of the questions we'll be answering in our upcoming online session — Long-Term Care: What YOU Need to Know About Substitute Decision Making.
The Advance Care Planning Ambassador Team of Hospice of Waterloo Region is so pleased to have Dr. Hugh Boyd, the Chief of Staff at St. Joseph's Health Centre in Guelph, and Elaine Shantz, the CEO of Fairview and Parkwood Seniors Community, as our guests for this online session as we explore the role of the SDM within a long-term care setting.
Using a question and answer format followed by facilitated audience conversation, we hope to address misconceptions and build the audience's knowledge of the role of an SDM, the kinds of decisions an SDMs may be called upon to make while also exploring the decision-making relationship between resident, SDM and staff in a long-term care setting.
Date: Friday, Sept. 25, 2020
Time: 10-11:30 a.m.
Location: Online
This is the first in a three-part series exploring what you need to know about making health care decisions for someone else.
In providing hundreds of sessions on Advance Care Planning across Waterloo Region, we recognize that there is a general lack of knowledge and correct understanding about the role of a Substitute Decision Makers in ONTARIO. We believe this knowledge is essential in order for you to be able to support a loved one and be their voice when they are unable to make their own health-care decisions.
Have questions?
Please feel free to email Sheli O'Connor, Director of Community Engagement and Partnership at Hospice of Waterloo Region: sheli@hospicewaterloo.ca.