#YODOContest: 'Ask Me Anything' Online Event
August 12, 2020 @ 12:00 pm

-

1:00 pm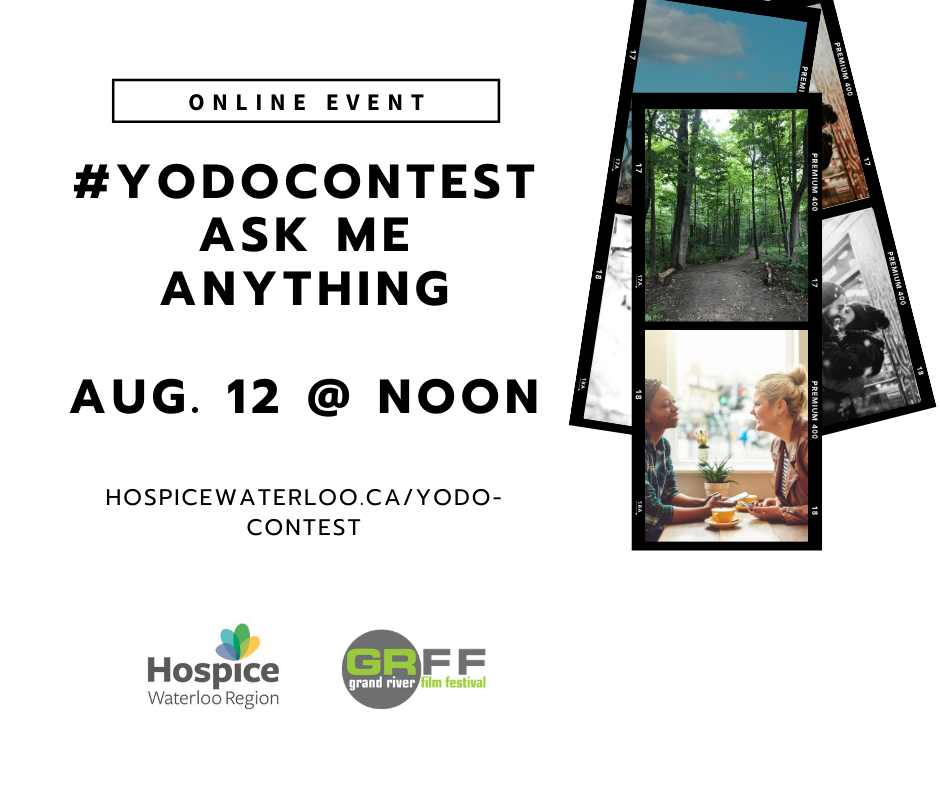 Hospice of Waterloo Region (HWR) is pleased to be partnering with the Grand River Film Festival (GRFF) on a NEW short film contest — You Only Die Once: #YODOContest.
In this "Ask Me Anything" (AMA) online event, we invite interested filmmakers and storytellers in Waterloo Region to join us and ask us any questions about the contest — from the film proposal and process, to the finished product!
Date: Aug. 12, 2020
Time: 12 p.m. to 1 p.m.
Cost: Free
AMA FACILITATORS
Sheli O'Connor, Director of Community Engagement and Partnerships for HWR
Michael R. Clark, Chair of Programming for GRFF
Heather Steinman, Event Coordinator for HWR
ABOUT THE CONTEST
You Only Die Once: #YODOContest calls on filmmakers and storytellers to focus on death as a part of living. We want you to use your artistic expression to create a film of 3-5 minutes in length that explores and educates others about death, dying, and grief in a personally unique way that has a positive influence on the community. Film proposals are due Sept. 15th.
To learn more about the film contest, visit hospicewaterloo.ca/YODO-contest
Have questions? Please feel free to email Sheli O'Connor: sheli@hospicewaterloo.ca.