We are thrilled to be celebrating volunteers who have been with Hospice of Waterloo Region for 20, 15, 10 and 5 years.
Volunteers at Hospice support clients with life-threatening illness, by providing social, emotional and practical supports. Our volunteers may also support the bereaved after their loved one has died. Volunteers also help us with special events and office projects. Simply put, we could not do our work without volunteers.
Hospice of Waterloo Region is honoured to recognize the following volunteers
Susan Martin
Robbie Medeiros
Peggy Hallman

Deb Bestfather

Bob Johnson

Pat Heffernan

Johanna Jamnik
Jennifer Cameron

Denise Leschak

Lana Ward

Dawn Lawrance
Michael Lough
Bill Waters
Mary Beth Sloane
Joyce Barker
Kathryn Boettger
Shunji "Eva" Quan
Peter Pyne
Patrice Thorn
Wilma Sol
Huseyin Unver
Carrie Lee
Donna Smuda
Wayne Smuda
Chris Mantynen
Teresa Gibson
Phil Milan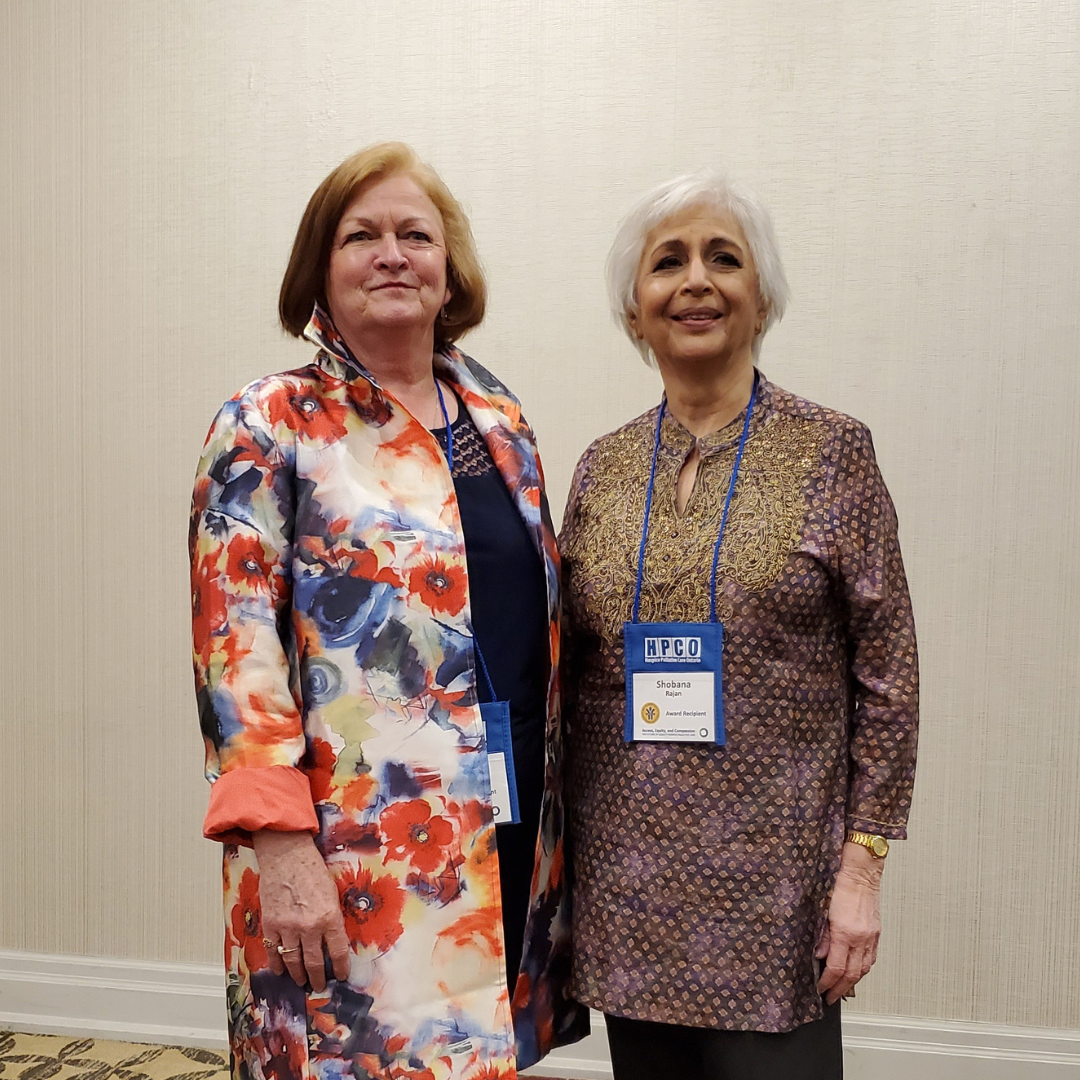 June Callwood Award Winner
Congrats to Hospice of Waterloo Region volunteer Lois Schmidt (pictured left), for being nominated to the 2022 June Callwood Circle for Outstanding Volunteer Award by
Hospice Palliative Care Ontario
!
Lois and Shobana Rajan (pictured right), the 2021 award winner, were honoured at a luncheon in April. Congrats again to you both for your significant contributions!
We asked staff at Hospice of Waterloo Region to share their thoughts on what makes our volunteers so special. This is what they had to say..
I enjoy chatting with the volunteers, they've helped me build life skills.
Our front desk volunteers help so much with answering the phone and door. A big thanks to them, it's so nice to have them here!
The ACP Ambassador team has been in the trenches with me , inspiring, encouraging, and sharing their expertise to adapt and create new ways to educate and connect with the public.​
Lynn, the garden team lead has been amazing, I give her something and she goes and does it!
I wonder if they realize that all the little things they do make a BIG difference in the course of our day. To see a smiling volunteer spells relief on many a day!
Volunteers
come
in
every
day
to 
serve…they
are
our
family
in
hospice!"
We could not do the work that we do without our amazing volunteers. Your kindness, compassion and dedication to clients and their families is truly inspiring. Thank you for all that you do.
Lynn, the garden team lead has been amazing, I give her something and she goes and does it!
We are very appreciative of the work our volunteers do on behalf of the HPC Team. They typically assist us with training materials and registration for our biannual HPC conference.  We are very fortunate to have such a committed group of volunteers with which to work.
Without
you,
there
is
no
us!
Last night they were a godsend getting meals out, they took extra initiative and helped me out of a tight spot, THANK YOU!
I am so grateful for all the hard work and support from our many volunteers. Without our volunteers, there are so many programs and services that we simply would not be able to provide. Our volunteers truly are the heart of
Hospice, and the wonderful support that our clients experience through Hospice is thanks to the care and compassion that they show day in and day out. Thank you! Thank you! Thank you!
For Residence Volunteers:
Residence Volunteers are an amazingly committed and enthusiastic bunch.  Very few shifts go uncovered each week which helps the Residence run smoothly day to day.  They've demonstrated flexibility and understanding as Covid-19 protocols have changed many times over the course of the pandemic and always serve with a smile on their faces and compassion in their hearts.  They are an incredible group of volunteers to work with every day!
The BWG Volunteers are an incredibly compassion group of Volunteers who listen intently each week yet also keep a watchful eye on the walkers.  They notice every change in each participant from week to week  – emotional, physical, spiritual – and are quick to alert me when they think more support or resources should be offered.  They manage the walks on their own each week, and I have full confidence in them to lead and support the group in a thoughtful and compassionate way.
I am so grateful for the time and positive, eager, compassionate energy that our volunteers pour into our organization.
It makes such a difference for me as a staff member to be able to work together with our volunteers and to depend on them to help with the everyday tasks and the flow of information and care for the folks that we serve.
They also make me feel so cared for as a staff member too and have done nothing but enhance my sense of belonging and team work as a new staff member here. That sense of togetherness in tough times and appreciation of each other is so important to me."
I thoroughly enjoy how we put our heads together to help solve issues and continue to make things a little bit better for everyone. THANK YOU! THANK YOU! THANK YOU!! Today and every day