Meet the Filmmakers Participating in Hospice Waterloo Region's Inaugural Short Film Contest, #YODOContest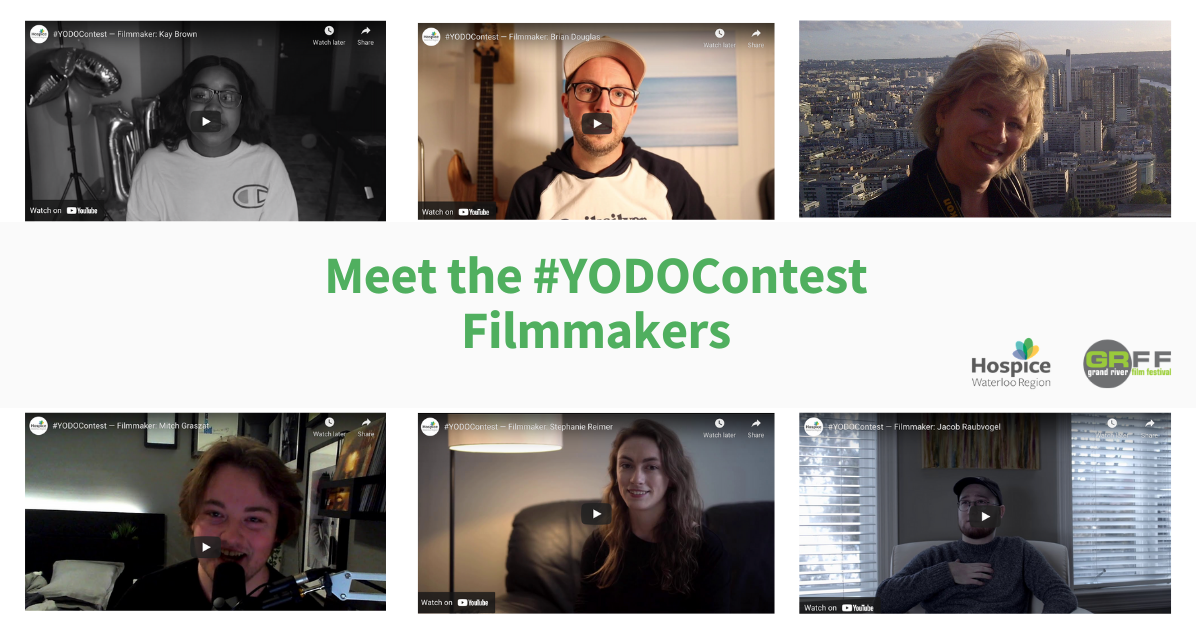 The winning films will be announced on April 21, 2021, and they will be screened at the Grand River Film Festival in May 2021.
The participating filmmakers – who are local to Waterloo Region – include:
Kay Brown

Brian Douglas

Jacob Raubvogel

Mitch Graszat

Stephanie Reimer

Angela Grasse
In the following films, they talk about why they decided to enter the #YODOContest.
About the film: Finding Meaning is a short film where a woman discusses the loss of her mother and the process of grieving she went through.
Fun Fact: I recently started writing and illustrating a children's book inspired by my granddaughter!
Meet the #YODOContest Judges
The judging panel includes:
Michael R. Clark, Chair of the Programming Committee for GRFF
Jennifer Cameron, Retired  school teacher, artist,  avid reader, enthusiastic gardener, passionate Hospice volunteer
Tony Smith, Turning passion into a career, Tony has been a part of the film and entertainment industry for almost 2 decades
Heather Steinmann, Client Services Support for HWR
Sheli O'Connor, Director of Community Partnerships and Engagement for HWR
The Winners
There is a prize of $650 for 1st place and $350 for 2nd place. There will also be up to three honourable mentions chosen. The winners, who will be announced at the Grand River Film Festival in May 2021, will receive 2 free All Access Passes valid for both CineSeries and the festival.
You Only Die Once: #YODOContest This phrase reminds us that life matters right until the end and that how we live at the end does matter. While death is a natural part of life, many people distance themselves from the topic of death and this has created a death-denying culture. This "death denial" causes us to avoid the subject leaving us unprepared to support our family, friends, neighbours and community to live well until the end of life. Hospice Waterloo Region believes that living well until we die begins by challenging our "death denial"and igniting the conversation about death, dying and bereavement. 
Hospice of Waterloo Region – Vision/Philosophy of Care
Hospice of Waterloo Region strives to create and support a community where no one experiences an end of life journey alone.
Our goal is to engage the community to inspire, nurture, and comfort the human spirit in life, death, and bereavement
Our philosophy is to provide comfort and care, to neither hasten or prolong life and to allow a natural death.
Check out our FAQs or contact Sheli O'Connor, the Director of Community Engagement and Partnerships at Hospice of Waterloo Region: sheli@hospicewaterloo.ca.