Watch the Winning #YODOContest Films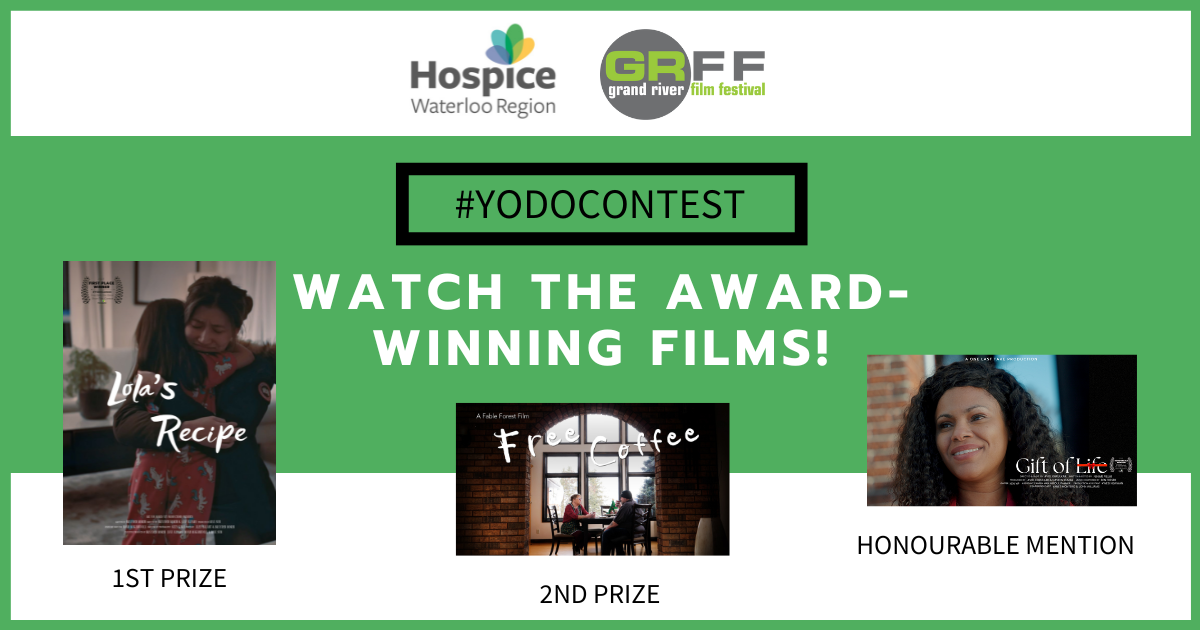 Hospice Waterloo Region (HWR) partnered with the Grand River Film Festival (GRFF) in 2023 for its third-annual short-film competition — You Only Die Once: #YODOContest.
This short film contest calls on filmmakers and storytellers to focus on death as a part of living. #YODOContest is about living well until you die. This phrase reminds us that life matters right until the end and that how we live at the end does matter.
While death is a natural part of life, many people distance themselves from the topic of death and this has created a death-denying culture. This "death denial" causes us to avoid the subject leaving us unprepared to support our family, friends, neighbours and community to live well until the end of life. Hospice of Waterloo Region believes that living well until we die begins by challenging our "death denial"and igniting the conversation about death, dying and bereavement. 
Art is often able to reach people emotionally and intellecturally, and as a result, can be a catalyst for great conversations. It is our hope that inviting local artists to create short films will be such a catalyst for conversations about death, dying and grief.
The winning films were screened at GRFF in May 2023. Below are the winning entries.
Hospice of Waterloo Region – Vision/Philosophy of Care
Hospice of Waterloo Region strives to create and support a community where no one experiences an end of life journey alone.
Our goal is to engage the community to inspire, nurture, and comfort the human spirit in life, death, and bereavement
Our philosophy is to provide comfort and care, to neither hasten or prolong life and to allow a natural death.
Contact Sheli O'Connor, the Director of Community Engagement and Partnerships at Hospice of Waterloo Region: sheli@hospicewaterloo.ca.