Putting Your Affairs in Order
23mar9:30 am11:30 amPutting Your Affairs in OrderAdvance Care Planning Panel Event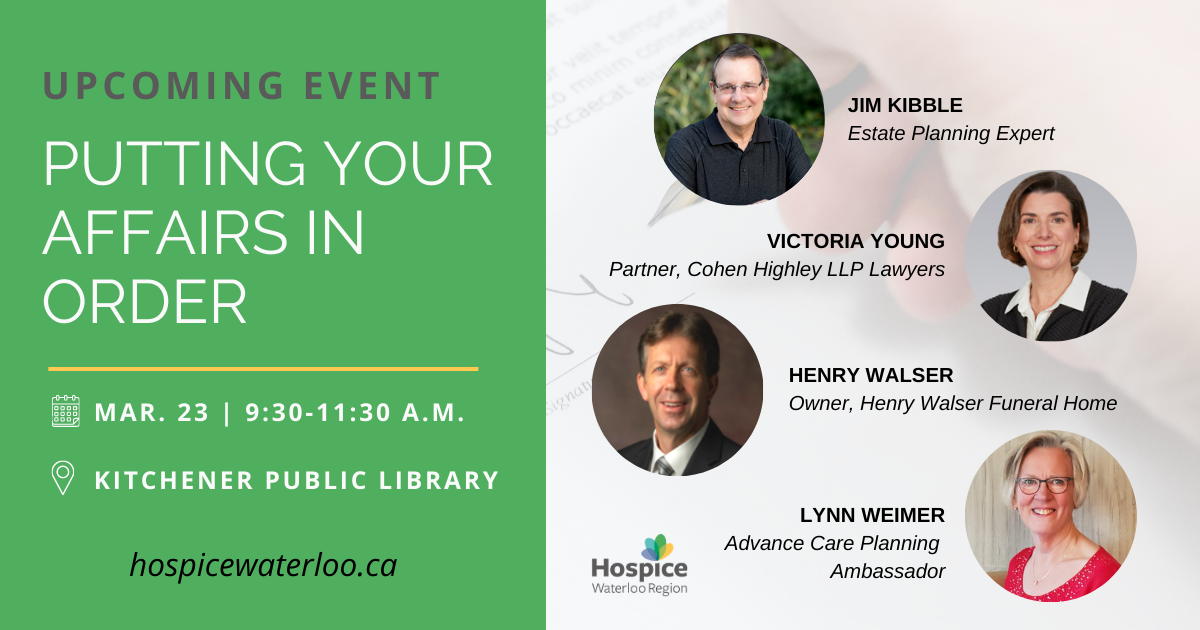 Event Details

Back by popular demand, we are inviting you to join the Advance Care Planning team from Hospice Waterloo Region as we welcome local experts Jim Kibble (Ontario Estate Consulting Solutions Inc.), Victoria Young, a Partner with Cohen Highley LLP Lawyers, Henry Walser, owner of the Henry Walser Funeral Home, and our own ACP Ambassador, Lynn Weimer, as they share their knowledge and experience in "planning ahead."

Here are some of the questions we hope to answer:
How can I make things easier for those I leave behind?
If I do nothing , what are the bad things that can happen?
What are the conversations I need to be having?
As we explore planning for your estate and legal affairs, your funeral and your own health care Jim, Victoria, Henry and Lynn will highlight what a person needs to "know and do" to create an estate plan in Ontario while also sharing the "speedbumps" along the way.
Henry will share all you need to know about preplanning your funeral while Lynn will bring it all together as we explore what you need to be thinking about and the conversations you need to be having with your Substitute Decision Maker(s) so that your plans are more than a piece of paper.
With time for facilitated discussion, our guests and our expert team of ACP Ambassadors will explore the answers to the questions you might not even know you need to ask!
The presenters will share what works, what doesn't, and the benefits/pitfalls of the SDM choices we make.
EVENT DETAILS
Date: Thursday, March 23rd
Time: 9:30-11:30 a.m.
Location: The Kitchener Public Library
To Register: Please RSVP below
If you have questions, please email sheli@hospicewaterloo.ca.
Time

(Thursday) 9:30 am - 11:30 am
RSVP Now
RSVPing is closed at this time.
Can not make it to this event?Change my RSVP