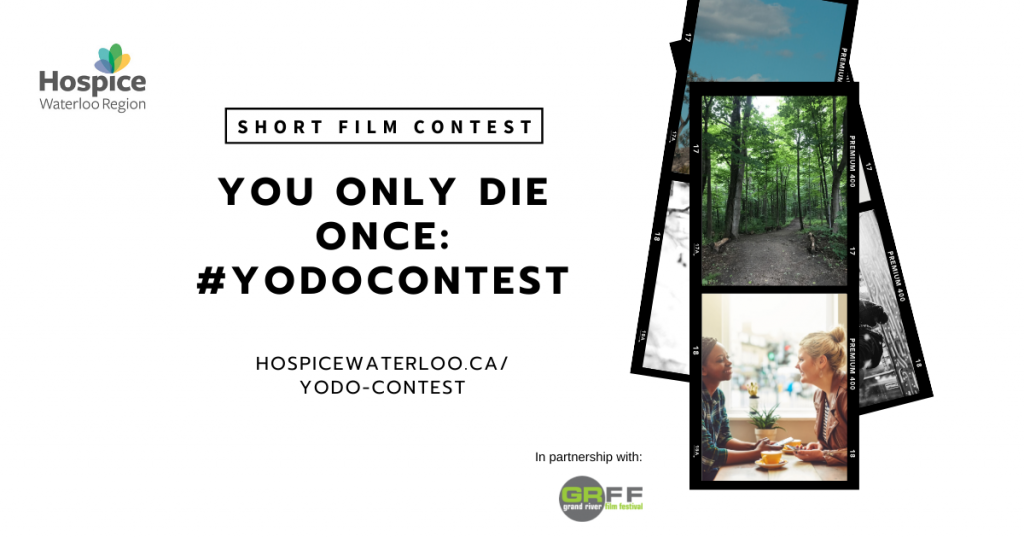 Hospice of Waterloo Region (HWR) is proud to be partnering with the Grand River Film Festival (GRFF) for the first time to present a short film competition that aims to get community members talking about what it means to live well until you die.
You Only Die Once: #YODOContest calls on filmmakers and storytellers to focus on death as a part of living. The short films are expected to be 3-5 minutes in length, and will explore and educate others about death, dying, and grief in a personally unique way that has a positive influence on the community.
"Over the past few years, HWR has been exploring creative ways to engage the community in conversations about death and dying. This short film contest was created to challenge our artists to bring their creativity to a conversation often avoided, that of death, dying and bereavement," says Sheli O'Connor, Director of Community Engagement and Partnerships, HWR. "We are thrilled to be partnering with the Grand River Film Festival whose efforts have repeatedly demonstrated the power of film to impact and inspire conversation on a variety of topics."
"Part of GRFF's goal is to highlight conversations that are happening in our communities and connect those to the themes of films. In the case of the Hospice, they do amazing, empathetic, emotional work for people and families, and because death is relevantly taboo in our society, it is rarely talked about. We need to open up that conversation. We need to talk openly and positively about death and dying," says Michael R. Clark, Chair of Programming, GRFF. "We're excited to partner with Hospice of Waterloo Region on this initiative as we know film can be a great medium to explore difficult ideas, and we love to champion the creative process here in our Region."
Currently, HWR is accepting proposal submissions from professional and amateur filmmakers and storytellers. To be eligible, applicants must be currently living in Waterloo Region and be over the age of 20. Applications are open until Sept. 15, 2020. You can submit your online application here.
Selected filmmakers will be contacted by mid-October, with final films due Mar. 15, 2021. The first and second place short films will be announced at the end of April 2021 and will be screened at the GRFF Film Festival in May 2021.
"We look forward to showcasing the ingenuity and skill of local video artists to spark this important conversation," says O'Connor.
Want to learn more? Visit our FAQs, or email Sheli O'Connor: sheli@hospicewaterloo.ca.
About Hospice of Waterloo Region
Hospice of Waterloo Region holds as a core value that death is a natural conclusion of life and that hospice palliative care neither prolongs nor hastens a natural death. The model of care that is delivered by Hospice of Waterloo Region is based on recognition that hospice palliative care is "Whole Person" care focused on supporting and improving the quality of life for persons who are living with or dying from advanced illness and for those who are bereaved by the loss of a loved one.
Celebrating and inspiring community through the shared experience of film, the Grand River Film Festival (GRFF) is dedicated to bringing bold, reflective and inspiring local, Canadian and international films to the Region of Waterloo, hosting both an annual festival and year-round film programming. GRFF recognizes the power of film to connect people and is thrilled to act as a vehicle for the community to build relationships and host meaningful conversations within the Waterloo Region.