Hospice Waterloo Region is pleased and excited to introduce the host of our Virtual Grand Opening Celebration
Lisa LaFlamme!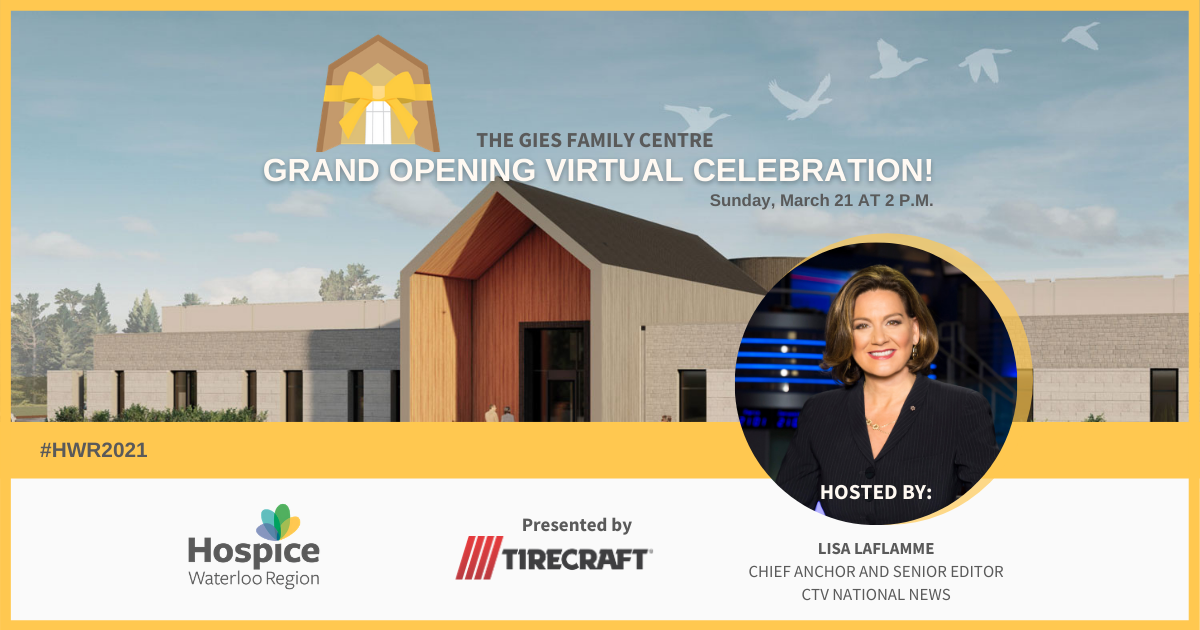 Building on our 26-year legacy of care, Hospice Waterloo Region is pleased to be hosting a virtual event to celebrate the grand opening of our new palliative care centre and hospice residence in north Waterloo.
We are excited and proud to announce that Lisa LaFlamme Chief News Anchor and Senior Editor, CTV NATIONAL NEWS, will host the event. Learn more about Ms. LaFlamme below. And don't forget to register to attend the Mar. 21st event!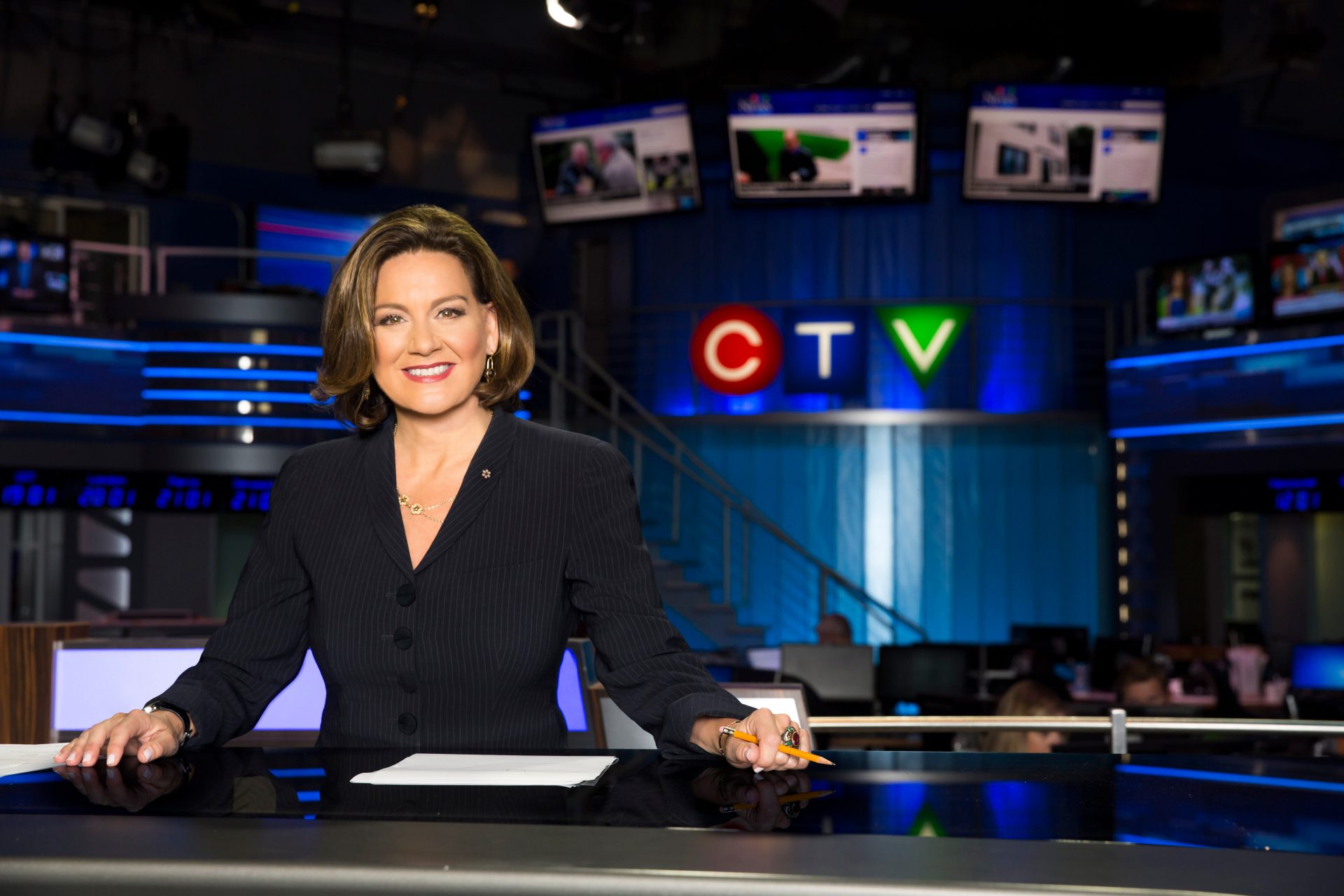 As Chief News Anchor and Senior Editor of CTV NATIONAL NEWS WITH LISA LAFLAMME since 2011, Lisa LaFlamme leads the country's #1 newscast where she has cemented her role as the face of news in Canada.
Never far from the heart of the story, LaFlamme brings Canadians an up-close look at the biggest stories unfolding across Canada and around the world. In May 2018, LaFlamme travelled to Windsor to lead CTV News' live special of the Royal Wedding of Prince Harry and Meghan Markle. In 2017, she reported from the devastated flood regions of Texas and Florida, and travelled to northern France to lead CTV News' special coverage of the 100th anniversary of the Battle of Vimy Ridge. Led by LaFlamme, CTV News delivered live coverage of the inauguration of Donald Trump from Washington D.C. in January 2017; reported on the death of Fidel Castro from Havana in November 2016; and broadcast live from Paris in November 2015 in the aftermath of the coordinated terrorist attacks across the city.
LaFlamme is known for landing exclusive interviews with leading global figures, including every Canadian Prime Minister since Brian Mulroney; sitting down to discuss international aid with Bill Gates at his headquarters in Seattle and at New York's United Nations General Assembly; an in-depth conversation with Nobel laureate Malala Yousafzai; an exclusive interview with former UN Secretary General Ban Ki-Moon on maternal and child health; leading CTV NATIONAL NEWS to Jerusalem for an exclusive interview with Prime Minister Benjamin Netanyahu; and to Shenzhen, China to sit down with Ren Zhengfei, reclusive founder of Huawei. Among her long list of primetime broadcast specials was a visit to Prince Harry at his home in London's Kensington Palace.
Prior to assuming the Anchor chair in 2011, LaFlamme spent more than a decade on the road as CTV News' National Affairs Correspondent, travelling to some of the world's most dangerous locations to cover everything from wars to elections to natural disasters. She was in Rome to report on the death of Pope John Paul II; has reported from Sri Lanka on the devastation from the Tsunami that hit South Asia; was in New Orleans to cover the impact Hurricane Katrina had on New Orleans; and has journeyed to Haiti several times to cover the aftermath of the 2010 earthquake and political turmoil gripping the country.
One of Canada's top journalists, LaFlamme is a trailblazer for women in Canadian news broadcasting, covering some of the biggest stories of the times.  LaFlamme has covered every Canadian federal election since 1997, and anchored CTV's non-stop coverage of the Royal Wedding of William and Kate, live from Buckingham Palace in 2011. Having covered every Olympics since 2008, she played an integral part of CTV's national broadcast team at Vancouver 2010 as Co-Host of OLYMPIC DAYTIME, and helmed CTV NATIONAL NEWS from London during the 2012 Olympic Games.
From the heart of the G20 riots that shook Toronto in 2010 to the environmental disaster in the Gulf of Mexico, and from the World Cup in South Africa to the miracle of the Chilean miners, LaFlamme has had a front row seat to some of the most compelling stories of a generation. She has covered every angle of the aftermath of 9/11 – from New York to Afghanistan, Iraq to Guantanamo Bay. Over the years, LaFlamme has reported extensively on the Canadian mission in Iraq and Afghanistan as well as the humanitarian crisis facing the Afghan people.
A graduate of the University of Ottawa, LaFlamme began her broadcasting career in 1989 at CTV Kitchener (then named CKCO) in her hometown of Kitchener-Waterloo, Ont. In addition to multiple awards for broadcasting and journalism over her career, she has received an honorary doctorate from her alma mater University of Ottawa, an honorary Doctor of Laws degree from Wilfrid Laurier University in Waterloo, Ont. and the University of Windsor. She is the recipient of the Order of Ontario and was awarded the Distinguished Canadian Award from the University of Ottawa. On June 27, 2019, LaFlamme was named Officer of the Order of Canada (O.C.), one of Canada's highest honours.
A passionate advocate of democracy in journalism, LaFlamme volunteers for Journalists for Human Rights (JHR) and has traveled with the organization to the Democratic Republic of Congo in 2013 to mentor and train young journalists in Goma, in the heart of the conflict zone. LaFlamme also championed a program with CTV News to identify eligible and deserving staff journalists to participate in JHR missions around the world, and serves as honorary co-chair of the annual JHR Night for Rights event.
LaFlamme is also an ambassador of PLAN International, traveling to remote areas to promote child rights and to end poverty around the world, and volunteers with Canadian Women for Women in Afghanistan, which works to advance education and educational opportunities for Afghan women and their families.
She speaks English and French.
Event Details
Hosted by Lisa LaFlamme Chief News Anchor and Senior Editor, CTV NATIONAL NEWS, we will enjoy musical performances by Drayton Entertainment and an inspiring message from special guest, David Chilton. 
We invite all of our community members, donors, community partners, volunteers and friends to join us for this special celebration!
Date: Sunday, Mar. 21, 2021

Time: 2 p.m. EDT

Where: Online
Registration for the event is free, but required.
The broadcast link will be shared with all registrants.
About The Gies Family Centre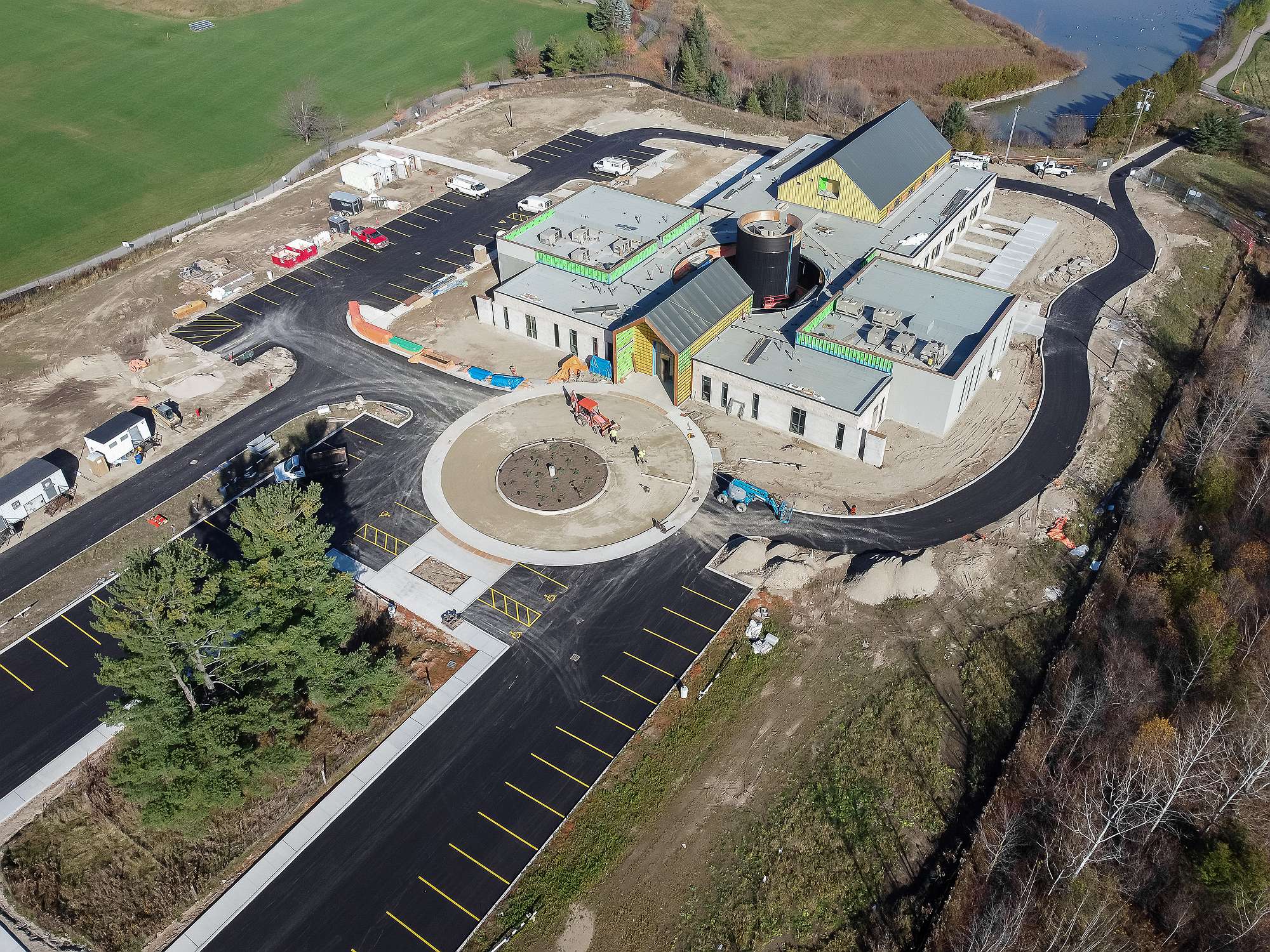 The Gies Family Centre will be much more than just a residence. It will house 10 hospice beds, a medical clinic, program areas for clients and families, counselling spaces, and administrative offcces. Hospice of Waterloo Region will also continue to operate as the only organization in the region that recruits and trains visiting volunteers who serve clients in other hospices and long-term care facilities in the area. 
Please feel free to email hospice@hospicewaterloo.ca or call 519-743-4114 for more information about this event, or The Gies Family Centre.